The Best Iwata Airbrushes for Painting Minis and Models
More miniature and model painters are adding airbrush to their workflow than ever before.
Right away they notice that airbrush speeds up priming and basecoating. With a little practice they find that the Airbrush allows for better shading and blending of colors to give each piece a showcase polish.
But with so many airbrushes to choose from which one is best for painting minis and models? To help narrow it down, we've put together a list of the brushes mini and model painters tell us they love the most. We've listed pros and cons as well compressor recommendations.
What to look for when choosing an airbrush for painting miniatures and models
Look for gravity or side feed systems designed for using small amounts of paint
Feed system refers to how the paint is fed into the airbrush. Gravity feed and side feed airbrushes are ideal for close up work with small amounts of paint. Gravity is the most popular as it is easiest to clean and requires less air pressure because gravity helps do the work.
Some painters prefer side feed airbrushes because they offer a clear line of sight. Side feed also provides a variety of options side cup and bottle options.
Look for dual action airbrushes
Dual action gives you greater control of how much paint comes out of the airbrush. Nearly all Iwata airbrushes are dual action models, including the five recommendations in this article.
Consider parts availability and affordability
All Iwata and Neo for Iwata brushes are backed by our five-year warranty. But this does not include needles and nozzles. Like car tires, these are wear and tear parts that will eventually need to be replaced. The ease of getting replacement parts should be a consideration for airbrush users. We recommend always having a spare needle and nozzle on hand so you don't have to go shopping in the middle of a painting session.
Eclipse CS
Best for: painters who want to be able to do a lot with one airbrush, both beginners and pros.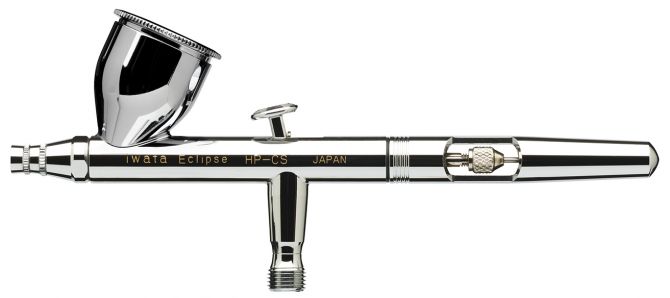 First up is every painter's favorite workhorse, the Eclipse CS. The Eclipse Series airbrushes are prized for their versatility. What do we mean by versatility?
First, Eclipse's high flow allows it to atomize a wider variety of paints with less need for thinning. So you can spend more time painting and less time cleaning and troubleshooting.  
Second, Eclipse Series offers a broad spray range, producing a pencil line to a medium spray with a single needle and nozzle setup.
This versatility is achieved because of Eclipse's unique drop in nozzle. Another benefit to the special nozzle is that this airbrush is very easy to clean because the nozzle is easy to remove and reinstall.
Because the Eclipse is so popular, you can find replacement parts just about anywhere airbrushes ae sold.
Pros
Can spray just about any paint
Easy to clean
Sprays fine lines to medium coverage
Replacement parts widely available
Cons
Not the best choice for super fine lines
Requires a stronger compressor than finer airbrushes
Neo for Iwata CN
Best for: newbies or those looking for a backup airbrush
Far and away the best value in its price class. If you've never airbrushed before, it's a great way to get started. If you are looking to move up from a cheap airbrush to something more reliable and precise while still wallet friendly, Neo is also a good way to go.
Even airbrush gurus are surprised and impressed by the Neo's fine line capability and quality atomization. It is designed to spray at low pressures making it ideal for close up work using small amounts of paint.
The price of a compressor is often a barrier for new airbrush users. One of the great things about the Neo is that it sprays great with smaller, less expensive compressors.
Lastly, because of its popularity, replacement parts are widely available as well as affordable.
Pros
Includes two cup sizes
Sprays fine to medium coverage
Pairs well with low psi compressors
Replacement parts are easy to find and affordable
Cons
Not ideal for larger coverage
Not suited for thicker paints
Hi-Line BH
Best for: painters looking for fine lines and control

For total control of fine details, the Hi-Line BH is tough to beat. The trigger is more responsive and the taper of the needle gives you better control of paint flow.
What makes this airbrush really special is the built in mac valve. This allows you to control the air pressure while spraying, without reaching for your compressor. You can also dial it in for special effects like splatters and stipples. The smaller cup is perfect for holding a few drops of paint and working on small details.
Pros
Mac Valve for air control and special effects
Sprays fine lines
Designed for comfort and responsiveness
Cons
Parts less widely available and more expensive
Not idea for wide coverage
Neo for Iwata TRN1 Trigger Airbrush
Best for: Basecoating and terrains and as a main airbrush for painters with dexterity issues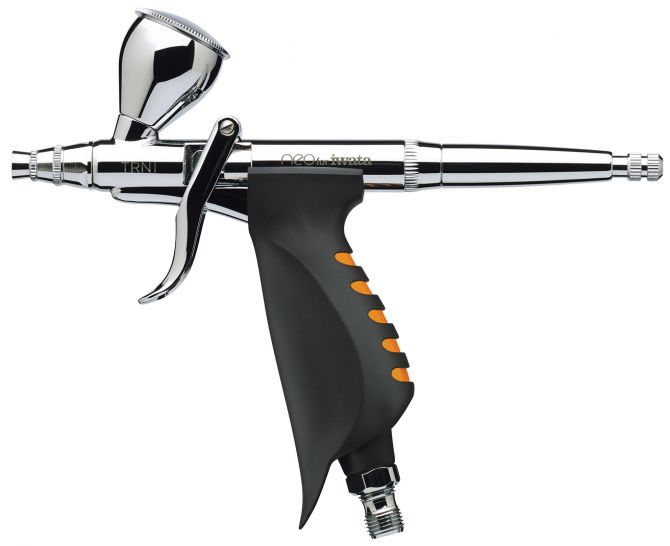 Now for something a little different.  The Neo trigger is a dual action airbrush that operates similar to a spray gun. Pull back a little for air, and then farther back for paint. Though not the best airbrush for details, the neo trigger has some unique features.
 It is a good choice for priming and zenithal highlighting. It is a perfect choice for people with dexterity problems who find it difficult to use a traditional airbrush.
Like the rest of the Neo line, this airbrush is designed to spray effortless coverage at low pressures.
Pros
Idea for painters who have trouble operating standard airbrushes
Sprays effortless coverage at low air pressures
Sprays fine lines to medium coverage
Cons
Not idea for detailed work
Parts are less widely available than other models
Custom Micron Takumi
Best for: advanced painters who crave the ultimate airbrush experience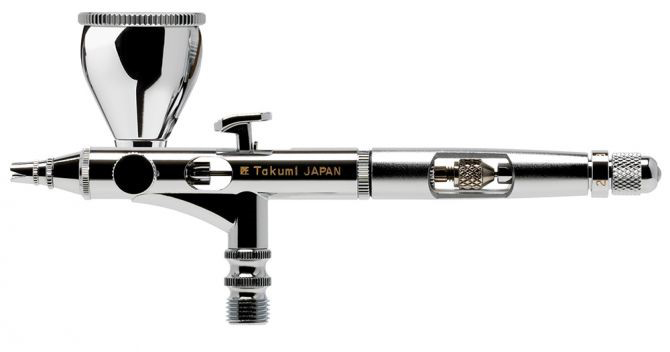 For painters seeking absolute precision the Custom Micron series represents the best of the best. Our new Takumi model reimagines side feed airbrushing for greater control and comfort than ever before.
The shorter head system brings you closer to your surface and the wider trigger increases control. Like the rest of the Custom Micron series, Takumi Micron is a specialty airbrush designed for extreme detailed spraying.
We recommend this airbrush only for advanced users. This means those who are comfortable working with paint and maintaining airbrush equipment.
Pros
Sprays hairline to fine lines
Ideal for extreme detailed spraying
Easier to clean than other side feed airbrushes
Unparalleled responsiveness and comfort in an airbrush
Cons
Works best with thin paints
Not suitable for larger coverage
Replacement parts are expensive and only available through our site and specialty airbrush retailers
Not recommended for new airbrush users