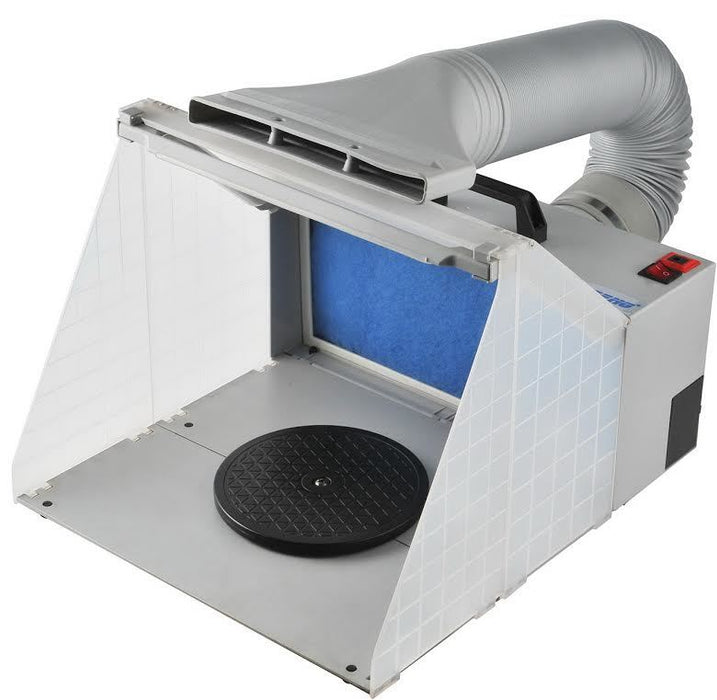 Formula Airbrush Spray Booth with Lights & Exhaust
Save

0

%
Save %
Original price
$249.95
-
Original price
$249.95
MINI SPRAY BOOTH - FOLDS INTO PORTABLE CASE WITH CARRY HANDLE AND INCLUDES EXHAUST DUCT.
Reduce the hazards and mess associated with the use of aerosol sprays, spray guns, and airbrushes with our portable spray booth. Suited for the professional to the hobbyist, our exclusive filtering systems and high volume fans keep your work environment neat and clean by effectively collecting the over spray and reducing the fumes from airbrush materials, fixatives, adhesives, or finishes that soil the work area and contaminate the air.
Even those that have a large workshop will enjoy the space-saving features of this fantastic, fold-up spray booth. Light-weight for complete portability, this booth measures just 480mm wide x 200mm high x 150mm deep when folded for easy storage on a shelf or inside a cabinet.
It unfolds in just a few seconds into a large 480mm wide x 360mm high x 420mm deep booth that's perfect for spraying scale models and craft items. If you need to spray long items, just place two booths side-by-side to double the width! Includes filter for trapping overspray, turntable, and wall power pack (plugs into 240v wall outlet). Made of durable plastic polymers, with metal fan grill and rubber feet.
• Extension Hose can draw the harmful gas out the door or window, and keeping the air clean inside the studio.
• Easily folds into a suitcase shape with handle for easy storing
• Perfect for small items from ceramics to radio control models.
• 7 ½" diameter revolving turntable that makes it easy to reach all the areas to be painted.
• Fiberglass filter system with booth filter included.
• Can use one or two of the included filter sponges
• Booth is intended to remove larger particles from the air and keeping the air clean.
• Can combine two spray booths to extend work space without any tools needed.
• Retractable cord that stores in its own compartment.
• Rubber feet protect your workbench.
• Low noise level - just 45 decibels!
• Daylight type LED Lights
• Not intended for use with hazardous materials, flammable or explosive paints or materials.
• Full Setup Dimension: L420 x W480 x H360mm
• Portable Dimension: 480mm x 200mm x 150mm
• Net Weight: 3.8kg
EXHAUST KIT:
 The hose extends approximately 1.5 metres and can then be directed out a window or opening with the slim line narrow end.